West Herr Mazda of Canandaigua Testimonials
A sincere THANK YOU to all our favorite customers!
My experience was very good. People I met and dealt with were very courteous and answer all my requests concerning my oil change and rotating of my tires and my inspection. I was very happy with my visit at West Herr.
Outstanding service, low pressure, answered all of our (many) questions. We told them our price range and they didn't try to push us out of it, which was really great. They even brought the car to us for a test drive! Very fair price on our trade-in, and handled all the details. HIGHLY recommend.
I felt like family during the whole process the people of West Herr Canadaiguia are phenomenal keep up the amazing work.
Awesome. In and out. Very friendly. Look forward to going again. Kudos to the people in the trenches
I appreciate the professional and polite courtesy awarded to me by Tracey and Mindy. They were very helpful in assisting me by asking the right questions to provide the best service for my vehicle. I felt very comfortable, and welcome, in addition, the cleanliness of the place added value to the experience and work being performed on my vehicle. Thank you!
This was the only dealership that didn't give me the run around. I had called just about every dealership in the Buffalo area (Towne Mazda specifically)— they all withheld information or sold the car I had on hold. I decided to shop further out and tried working with Bob Johnson— same thing. I worked with Nygel and he made the process seamless, even considering the fact I was registering the car out of state. Within 4 days of planning, I was out of the door with my new CX-5! They even picked me up from the rental car store and brought me to the dealership. 10/10 recommend!
Chris Jay helped us purchased a new Mazda CX5. He was very thorough with the features of the car, let us test drive on our own and answered all of our questions. Justin the General Manager was helpful and transparent. We will definitely recommend to any friends and family!
Just went over 100,000 miles on my 2014 CX-5 so I scheduled a C service at the Canandaigua Mazda location. Mindy was great - scheduled an appointment and kept me up-to-date with needed repairs. I plan to continue servicing my car with the Cdga Mazda service team!
Very accommodating, easy to work with, met all my expectations of how a new car purchase should go. Overall fantastic experience!
Caleb Mitchel did a great job and had excellent follow through after the sale also.
I had a couple accessories installed on my Civic. The staff couldn't have been more helpful. Also, the building was spotless and had a very comfortable waiting area. I will definitely return.
So many adjectives can describe this team. Jus let a few include, kind, professional, knowledgeable, caring, patient, and AMAZING! If you want to work with good people, come here! They will take as much time as you need to get you in the right car! Corey, Ryan, Justin and Mark were so amazing! Will continue buying here and recommending this team to everyone as long as thinks team is here!
We just purchased a car from West Herr Mazda of Canandaigua. The process was terrific and seamless. Chris Jay drove from Canandaigua to the Williamsville West Herr Toyota dealership to start the process and then, on his day off, drove back to Williamsville to complete the sale. This is service above and beyond. West Herr is a terrific dealership and I highly recommend them. Special thanks to Chris Jay for all he did for us!
I took my 2017 CX-5 for a C service, an inspection and an oil change. I needed new brakes and I had to have a new filter installed due to a critter living in my CX-5! The information was shared with me in a friendly, respectful manner. The service was excellent as always!
West Herr service was excellent! Very easy to make the appointment and minimum wait time! Suggestion - send only one service reminder. I received a reminder every day for five days.
The staff was friendly and knowledgeable and the service was completed in a timely manner.
Bought my first Mazda here. Today was the first oil change. Thanks to Jeff in service, and all the other guys who work there too.
Ontario Mazda service was excellent! Very easy to make the appointment and service was done right! Recommendations were super helpful! Will be back!
Ontario Mazda is the absolute best car dealership that we have ever worked with! Thank you Ontario Mazda!
Friendly staff and an excellent service department. I couldn't be more satisfied with buying a car here
Excellent experience with the salesman and other staff. I would recommend Ontario Mazda to anyone. I am very pleased with every aspect of the transaction
I just purchased my first Mazda. I went to Ontario Mazda and had a great experience. I made an appointment ahead of time and the salesman had the car I was interested in already for a test drive. The buying process was fairly painless and their first offer for the car plus trade-in was very close to my research number. I countered and they accepted. The pick up process went very smoothly and our salesman spent enough time with us so we had everything setup just right. We are very pleased with Ontario Mazda.
I have been coming to Ontario Mazda with my vehicles since 2007 and always get great service.I have purchased 4 vehicles thru them and they are great to work with
Just dropped off for oil change at 4 PM and had ready by 8:30 the following morning . Great service always. Thanks to John & Tyler
I called needing to have service right away and Tyler fit me in on the same day without hesitation. No questions asked. That's what you call good customer service!
Our Service Is Unmatched
The service team at West Herr Mazda of Canandaigua has been factory-trained to provide you with exceptional service and ensure your vehicle is performing at its best.
Take One Step Closer
If you're in the market for a new Mazda, take the first step by applying for financing. We'll work with you and our network of banks to get you in the right loan for the right vehicle.
West Herr Mazda of Canandaigua
Canandaigua, NY
2337 Rochester Rd, Canandaigua, NY 14424
Hours
Sales
Monday - Tuesday, Thursday: 9:00 AM - 7:00 PM
Wednesday, Friday: 9:00 AM - 6:00 PM
Saturday: 9:00 AM - 5:00 PM
Service
Monday: 7:30 AM - 7:00 PM
Tuesday - Friday: 7:30 AM - 6:00 PM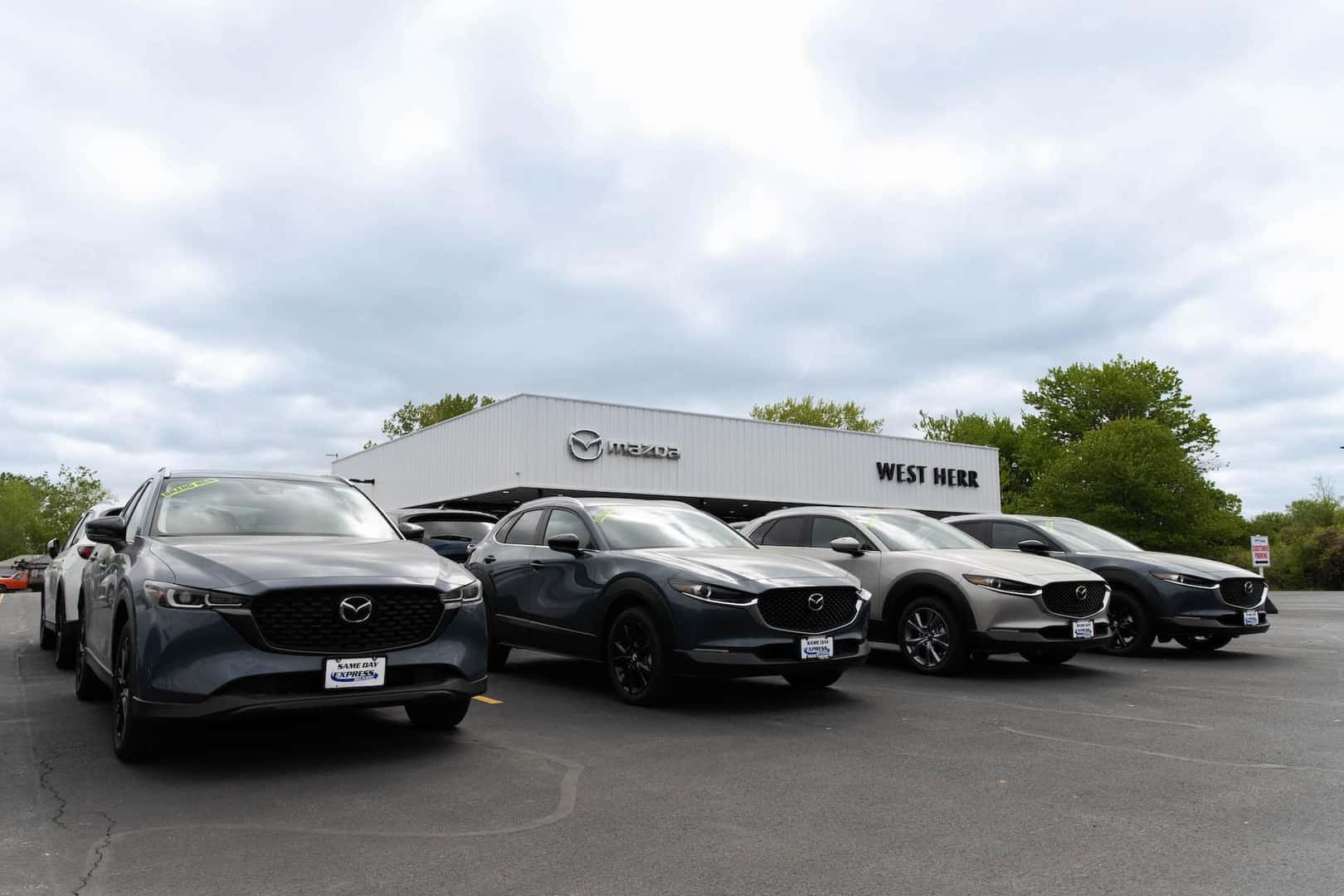 Welcome to West Herr Mazda of Canandaigua
West Herr Mazda of Canandaigua is a family-owned and operated auto dealership offering top-quality sales, service, parts, and financing for new and used Mazda cars in beautiful Canandaigua, New York. Our customers keep coming back, because they know we'll do everything we can to help them make the best, informed buying decision. We're committed to providing you with friendly, helpful service for all things automotive, and our dedication to customer service has earned us Mazda Motor of America's Customer Satisfaction Award.
We take pride in our customer service because we take pride in our customer.
At West Herr Mazda of Canandaigua, we make buying or leasing a new or used car, truck, SUV, or van effortless and trouble-free. Whether you are looking for a new Mazda vehicle, a used Mazda vehicle, or used vehicles from other automakers, you can find you that vehicle at our dealership in Canandaigua, New York, today. You will find popular Mazda models like the Mazda CX-5, Mazda CX-30, and Mazda CX-9, just to name a few, among the selection of powerful vehicles that are as safe as they are sleek.